Day 3 of 31 Days of Halloween has arrived!!!!
I was so inspired by yesterdays projects.
I'm one of the Wicked Bloggers and you can find the complete Blog Hop Roll on the side bar.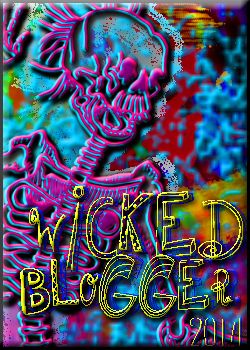 Today I bring you an altered round cardboard box that turned into a candle holder and a candle featuring an image from the As Death rubber stamp set from Smeared Ink.
It was lots of work but I am in love with it.
Hope you like it!
Can't wait to see you tomorrow!
Now hop over to Lisa's blog, she has something special for you.
I would like to enter this project in the following challenges:
Thanks!
Love,