Day 21 of 31 Days of Halloween has arrived!!!!
Yikes... 21 days already?
Health update: I am feeling better today! Thanks for all your

thoughtful

comments.
I'm one of the Wicked Bloggers and you can find the complete Blog Hop Roll on the side bar.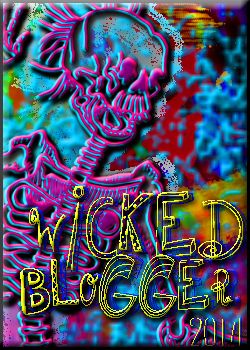 I am also a wicked player at DominoArt's 31 Days of Halloween Celebration
Today I bring you a mixed media art journal page and a preview of my project for DominoArt.
My art journal page features Count Meowt by Rick St. Dennis.
Mediums used were: Ranger Distress Ink Pad, Tim Holtz Distress Markers, Sharpie Marker, Signo White gel pen, Spectrum Noir Markers and Prisma coloring pencils.
Here is my sneak peek for DominoArt's project, I'm really happy with the final piece
Hope you like it!
Can't wait to see you tomorrow!
Now hop over to Lisa's blog, she has something special for you.
Thanks!
Love,
Julia